BACK
COBALT INSTALL GUIDELINES
NEEDLE COLOR CHANGE
SS/SC BOOST GAUGE FACE
SS/TC BOOST GAUGE FACE
Chevrolet Cobalt / Cobalt SS
Standard gauge face colors for the Chevy Cobalt are white, silver and black. The standard lighting colors are neutral, red, light blue, green, and yellow. Standard logos are shown at bottom of the page. For custom designs or custom colors call 1-866-943-8641. Prices listed are for the gauge face only - cluster is not included. **Note: If ordering a black or carbon fiber design face with the blue lighting color option, the LED upgrade is strongly recommended.
When ordering a white or silver face, the daytime color of the numbers and markings will match your lighting color choice.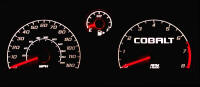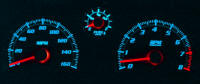 Neutral lighting & light blue lighting shown.
---
Upgrade to a Pearl Color Finish or Carbon Fiber Design for an additional $15.00 CAD -
click here for options
!
---
Cobalt Gauge Face - 220kmh - $95.00 CAD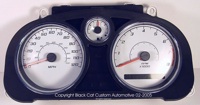 Gauge Cluster Not Included
US mph shown - Cdn version has 220kmh speedometer
---
Cobalt C-Style Gauge Face kmh - $95.00 CAD
Please note that the accent line color will be the same color as the lighting you choose.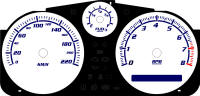 220kmh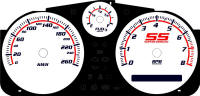 260kh Supercharged w/logo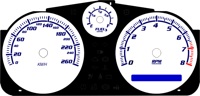 260kmh Turbocharged
---
Cobalt Euro Style Gauge Face - kmh - $95.00 CAD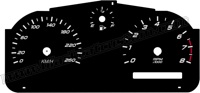 SS/SC Shown in Black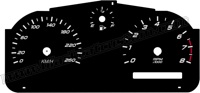 SS/TC Shown in Black
---
Cobalt B-Style Gauge Face - kmh - $95.00 CAD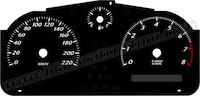 220kmh - Black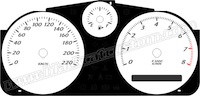 220kmh - White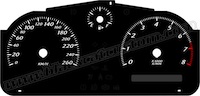 260kmh - Black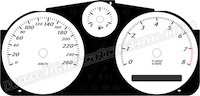 260kmh - White
---
Cobalt LED Lighting Kit $35.00 CAD
Upgrade your lighting with this LED Lighting Kit. Color options are blue, red, green & white. LED kits can be used with the stock gauge face with the following exceptions, Blue and Red LED kits will work with the 220kmh stock faces. Red and White LED Kits will work with the 260kmh stock gauge face. Other color combinations will not light up correctly due to color tints in the factory gauge face but can be used with a Black Cat Custom gauge face. To achieve lighting as shown, the LED kit is to be installed with a Black Cat Custom gauge face. The LED Lighting Upgrade is simple to install but does require some soldering skill. Instructions are included. If you do not know how to solder, any competent electronics repair shop can do it in a few minutes following the instructions included. Pictures below show the white LED upgrade & blue LED upgrade lighting (mph gauges & Sky shows the white LED upgrade, but the effect is the same for the Cobalt kmh faces). Gauge Face not included! Note: If ordering the LED kit along with our gauge face, the LED Lighting Kit color you choose will replace your lighting color choice for the gauge face. Your gauge face will be made to optimize your LED color choice.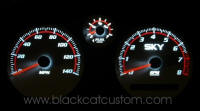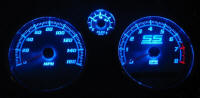 Here is a picture taken of the Blue LED Kit used with the stock Cobalt gauge face -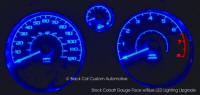 This picture shows the blue glowing needle effect created by removing the stock red color on needles and repainting them plain white.
---
Available Logos
For the standard Cobalt, logos will be the same color as the numbers and markings. For the Cobalt SS, the logos will be the same color as the accent line.

SS Supercharged

SS Turbocharged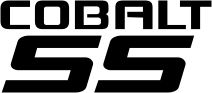 Cobalt SS

SS

Bowtie

Cobalt

Chevrolet

GT

"My Text" is your personal logo up to 10 characters. Below is an example of a "My Text" option. Text will be this style in the same color as the accent line.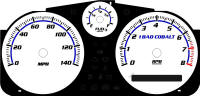 For the Cobalt SS, more color combinations are available, you can mix and match the face color and the accent line color. Please call to order 1-866-943-8641.